Oscar H. Gandy, Jr.'s Home Page


Need a little background information?
I do hope that this will do


"And what am I teaching?" you ask…Well, the truth is, I'm not teaching.
I have retired and moved to Tucson, AZ.
Here are some images from that continuing project....
You might also want to check out
some of my wife's impressions of our trips around the World.


And what of my research and writing?
*****
Papers prepared for presentation at IAMCR 2019 Madrid
Oscar Gandy and Selena Nemorin
Transportation and Smart City Amaginaries: A Critical Analysis
of Proposals for the USDOT Smart City Challenge HERE
Oscar Gandy: The Algrorithm made me do it! Predictive policing,
cameras, social media and affective assessment HERE
Further work with Selena Nemorin: Oscar H. Gandy Jr. & Selena Nemorin. "Toward a political economy of nudge: Smart city variations." Information, Communication & Society (online 29 May 2018:
https://doi.org/10.1080/1369118X.2018.1477969).

A new departure in my work in collaboration with Selena Nemorin, has been published in the IJOC http://ijoc.org/index.php/ijoc/article/view/6706/2197
A paper that Selena Nemorin and I presented at the IAMCR conference in Cartagena, Columbia this summer is available here.

My lectures on Surveillance and the formation of public policy at the Surveillance & Society Biennial Conference in Barcelona, and at the London School of Economics have been published in Surveillance & Society.

My May 23, 2016 lecture at the London School of Economics on "Surveillance and the Public Sphere" can be accessed as a podcast or a video here.

My paper on framing inequality as presented at IAMCR Montreal 2015. It has been published in the The Political Economy of Communication Journal here.

My chapter on the framing of inequality has been published online in Oxford Handbooks Online (July, 2014). DOI:10.1093/oxfordhb/9780199793471.013.019.
Here's a draft version of my overwritten paper on "placemaking" presented to the ISA meeting in Yokohama in July 2014
My article on hyperincarceration was published in January 2014!
My IAMCR 2011 Istanbul Papers
have been published in Triple-C
Wedging Equity and Environmental Justice.
Consumer Protection in Cyberspace
*****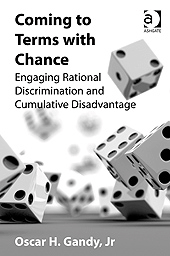 My book on rational discrimination and cumulative disadvantage should still be available
An article on Engaging Rational Discrimination
My brief comment on The House of Lords' Surveillance Report in Surveillance and Society 6(3).

A lecture and a book chapter derived from a project on digital property
On Matters of Public Policy
The Annenberg Lecture on Risk

A foray into environmental justice

An edited volume on Framing
Some Reflections on Privacy and Surveillance.
The much-awaited report from the NRC
A Datamining article
A policy formation article
Some Engagement with the Topic of Race
An article on racial profiling
An article on racial statistics.
If you search far and wide you might still be able to find
my book on Communication and Race .

Want to talk about any of this stuff ?
EMAIL: OGANDY@ ASC.UPENN.EDU